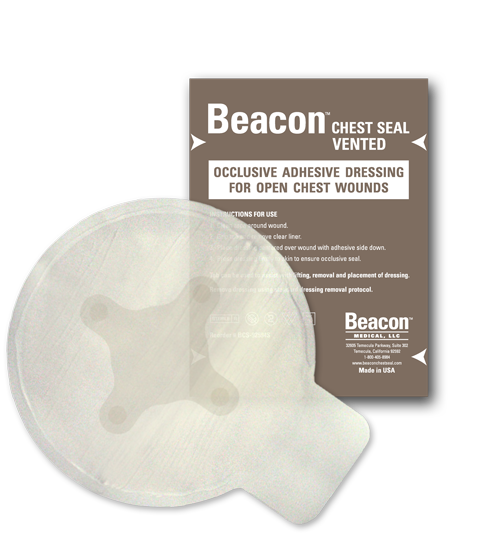 Beacon Chest Seal - Vented - Kit Size
Regular price $17.00 Sale
The Kit-sized Vented Beacon™ Chest Seal is an occlusive dressing designed to treat open chest wounds.  Penetrating injuries to the chest (between the nexk and navel) that result in open chest wounds, need to be covered, and may lead to tension pneumothorax, the second leading cause of preventable death on the battlefield.  Beacon™ Chest Seals are specifically designed with a medical grade hydrogel adhesive strong enough to adhere to skin that is exposed to blood, sweat, hair, sand or water. This vented seal features a patent pending design with 4 vents that allow for one-way airflow out of the chest cavity during exhalation while preventing airflow into the chest cavity during inhalation, which is the cause of pneumothorax.  See video below for training. 
NOTE: An entrance wound often means there is an exit wound. Be prepared to protect a second wound. 
The Beacon™ Chest Seal Meets CoTCCC Preferred Features for Chest Seals.
 • FDA 510(k) Exempt, CE Marking
• Used by Military, Police, Fire, EMS and First Responders
• Large 6  Inch Round Shape for Optimal Coverage Area
• Large Release Tab for Easy Application and Removal
• Effective in Extreme Cold and Heat
• Transparent Backing for Easy Placement Over the Wound
• Strong Medical Grade Hydrogel Adhesive
• Lightweight Puncture-Resistant Packaging
• Conforms and Adheres Easily to All Body Surfaces
• Function and Integrity of Chest Seal Preserved when Folded or Rolled
• Vacuum Sealed Pouch with 4 Tear Notches
• Latex Free