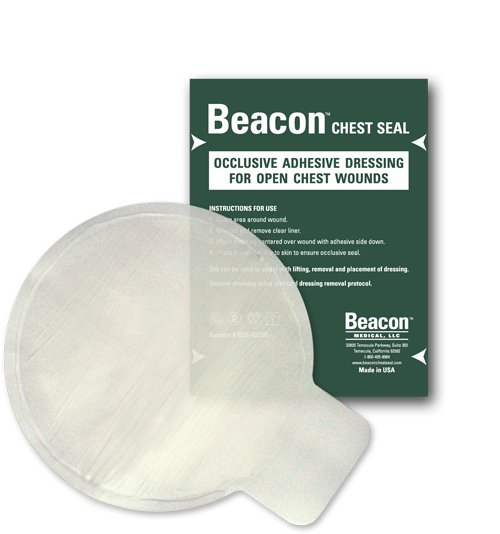 Beacon Chest Seal - Non-vented - Kit Size - From $10.99
Regular price $14.00 Sale
The Beacon™ Chest Seal is an advanced occlusive dressing designed to treat open chest wounds. They are specifically designed with a medical grade hydrogel adhesive strong enough to adhere to skin that is exposed to blood, sweat, hair, sand or water. 
Note: These seals are not vented. For civilians, we recommend "vented" chest seals only. This avoids needing to make a medical decision about burping the seal to let built up air and fluids to be released. Vented seals drain for you, without need for intervention. 

Features: 

Large 6-inch round shape for optimal coverage area 
Effective in extreme cold and heat 
Large release tab for easy application and removal 
Transparent backing for easy placement over the wound 
Strong medical grade hydrogel adhesive 
Lightweight puncture-resistant packaging 
Conforms and adheres easily to all body surfaces 
Function and integrity of chest seal preserved when folded or rolled 
Vacuum-sealed ouch w/ 4 tear notches 
Latex-free   
Fully stocked kits available here!
NOTE: An entrance wound often means there is an exit wound. Be prepared to protect a second wound.